<! ------------------------------------------------------------------------------->
---
---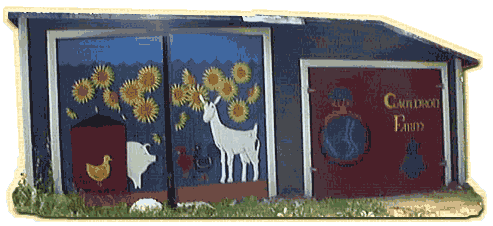 Nestled in the shadow of Mount Wachusett in central Massachusetts, Cauldron Farm is an organic pagan-owned farm and homestead on 18 acres of densely wooded swamp. We (Raven, Bella, Jess, Josh, Elizabeth, and various and sundry other visitors/family/animals) run this place on very little money and a whole lot of love and faith. We keep goats, sheep, chickens, and rabbits. We experiment with alternative energy; and host retreats. We are activists for the transgender and intersex communities. We do handcrafts of various kinds, and make pagan prayer beads.
Cauldron Farm hosts several retreats every year for various groups. We have a large ritual field out back with a laid stone labyrinth, a large fire pit, and primitive camping for around 80. Folks are welcome to visit or take spiritual retreat here, but please call first. Larger groups and non-religious events are asked a small site fee and should book at least two months in advance.
Cauldron Farm is the centerpoint of the First Kingdom Church of Asphodel, an eclectic neo-pagan group that holds regular open ceremonies and rituals in central Massachusetts. We also run Asphodel Press, a publishing collective for small-market pagan books and religious devotionals.
---
---
---
---
---
---
---
---
What's New:
2008.12.20 Site overhaul. Moved many things to their own domains, so CauldronFarm.com primarily has information about Cauldron Farm.
Archived Changes prior to 2008